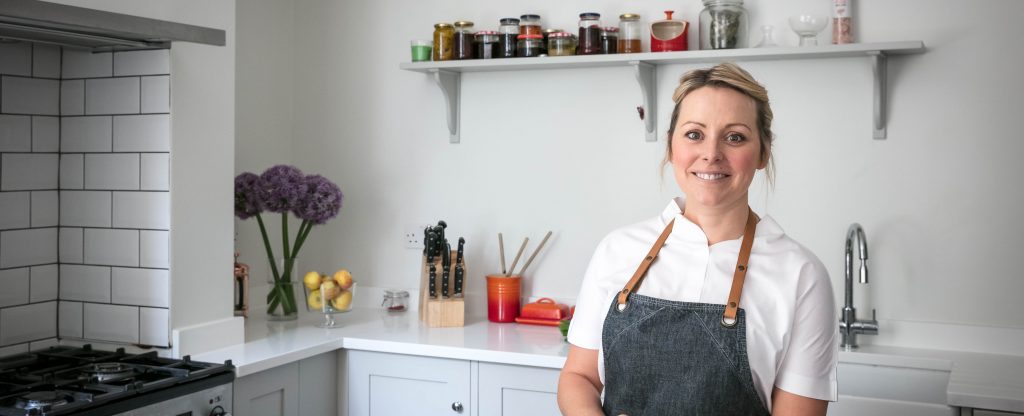 Myrtle Restaurant - A new taste of Ireland in London
We met Anna Haugh at her newly opened restaurant, Myrtle in Chelsea for a chat about food, Ireland and beef…
Dublin born Chef Anna Haugh has long time been a champion of Irish food. Throughout a career spent working for the likes of Philip Howard and Gordon Ramsay she has made it a mission to seek out the best Irish produce.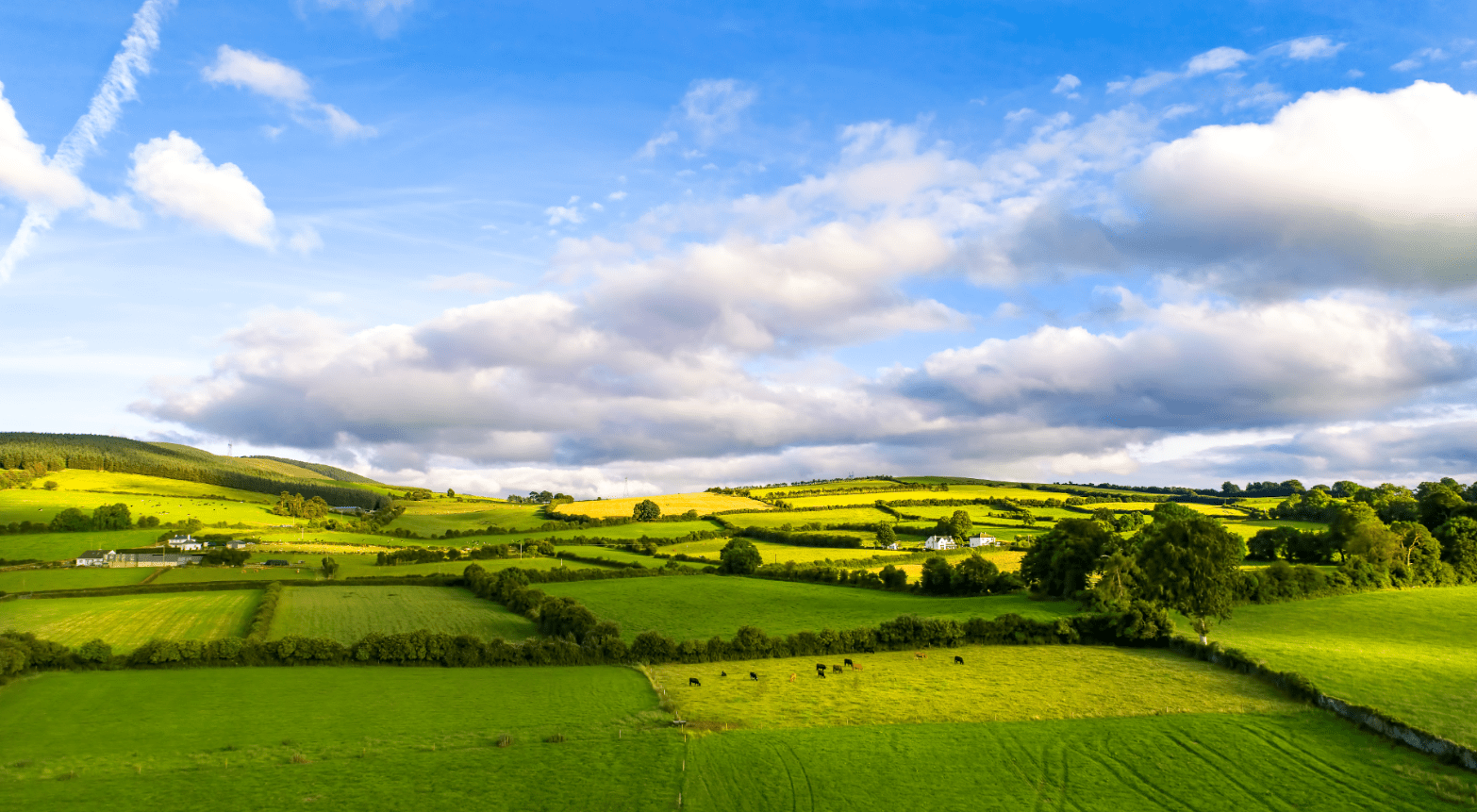 Irish At Heart
"How could I not want to celebrate my culture?!" she explained. With Irish theming throughout and a menu full of inventive dishes she does indeed manage to show off so much of what is good about Irish produce and cooking.
Situated in Chelsea just off the King's Road at World's End, Myrtle is Anna's first solo restaurant opening. Named as a homage to Myrtle Allen, the aptly named "matriarch of Irish cooking", Anna is looking to reflect her simple and elegant form of cooking with a modern take on Irish cuisine. As she describes it…taking modern European food and overlaying an Irish influence.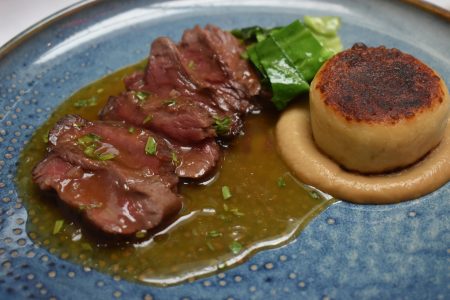 Beef Stuffed Boxty
One of her signature dishes showcases this with a clever twist. The traditional Irish boxty cake is refined with her dish of roasted beef fillet with Burren beef stuffed boxty. It is a thing of beauty with a flavour that lives long in the memory. Anna describes her influences, "My boxty cake dish is a refined version of what a traditional boxty cake would have been in Ireland. In years past it would have been seen as a peasant food so the idea of pairing it with a fillet of beef is saying look at this, it's delicious! A lot of the recipes I'm working on are the ones that I got from my mother and grandmother. All of my Granny's dishes are truly Irish because she didn't even leave Ireland!"
Anna's boxty cake dish is inspired by Ireland but it also reflects her interest in getting the most out of cooking with beef. As she explains "I love a good ribeye, I love a good steak but to take a shin of beef and marinade it, roast it or braise it until it's tender takes time and knowledge and effort and I love that. It's lovely in the boxty but you can also take it off and roll and cook it in red wine jus with carrots, there's so much you can do with a shin."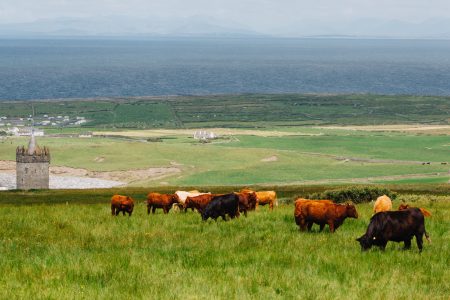 Irish Beef Farming Heritage
Her love of food and cooking is infectious and so too is her affection and respect for the rich heritage of Irish food production. We chat about what she sees as so special about Irish beef. "I think it's about the care of the farmer, you know, the farmer protecting their herd and minding it. But obviously it's also about the grass, it's fed on grass." She clearly knows her stuff when it comes to Irish farming techniques as she explains, "The Burren in Ireland, County Clare, is basically a huge limestone covered in grass and flowers and fauna. The cattle eat the grass during the summer – the flowers and fauna are protected otherwise they wouldn't grow back! – and then in the winter, all the glorious sunshine in Ireland…," she punctuates her point with an ironic 'ha, ha!', "…has warmed the Burren's stone and there's heat so the cattle never actually need to go indoors."
It is this affinity with Ireland and its food landscape that encouraged Anna to join chefs and others in the food industry at JP McMahon's annual food emporium in Galway, Food on the Edge. Food on the Edge is a coming together of chefs to listen, talk and debate about the future of food in the industry and on the planet. Anna was invited to speak at the event in 2017 and spoke passionately about mental health in the kitchen and bullying. "Mental health in the kitchen is so important. As chefs we have responsibilities as leaders, about how you have to mind and watch your staff as they're so vulnerable." Her experience at the event has left her in no doubt about its importance in the Irish and global food calendar, "It's one of the most amazing food emporiums you could ever go to. People get up and they talk about what we are doing with this industry and they're so passionate and it's so interesting!"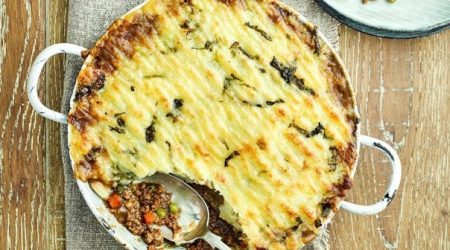 Home Cooking
Our conversation turns to home cooking and some of her favourite beef dishes at home. Despite her long experience and expertise as a top chef she laughs self-deprecatingly at her lack of skills when it comes to lighting a BBQ. "It's all about lighting that god damn BBQ! After my first three attempts I was mortified. Because I'm a chef people expect me to be good at BBQ'ing so I was like, I need to get good at this!" Having mastered the art of BBQ lighting she went on to explain some of her tips, "For me BBQ'ing is all about your marinade before cooking and it doesn't take much time. Because my style of food is quite traditional I don't use a lot of spices, there's always a little drop of vinegar, salt, garlic, thyme. Usually what I do, is keep a little bit of marinade back. I'll marinade it over night or for at least an hour or two. Then when I roast it on the BBQ I start it on a high heat, then take it onto a lower heat, and then when it comes off, I brush it again with the marinade so you have a cooked version of the marinade and then a fresh zing. So, if you chop some parsley to go through that and then rub it on top of your meat it's really nice! If you follow this form it'll transform your meat!"
The home theme returns to her one of her favourite cuts of beef, the shin, as she explains her ultimate favourite home cooked beef dish, "The cottage pie, definitely my favourite at home. Made with a shin of beef, it's not a big load of mince, it's a really unctuous, delicious version of cottage pie with loads of vegetables to break up the meat to get a couple of your five a day, e.g. onions, garlics, carrots and sometimes peas, parsley and a sprinkle of parmesan."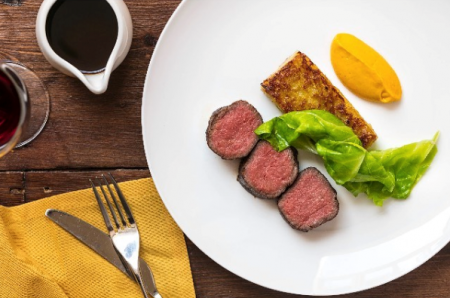 Simplicity With Style
It is this simple use of quality ingredients coupled with undoubted cooking technique and skills that defines Anna Haugh and her Myrtle restaurant. "It's quite simple what I want. I want to be firm favourite with the locals, being part of a neighbourhood and knowing people. I like the idea of people associating this restaurant with delicious food and lovely service but also being fun, warm, welcoming and not taking itself too seriously – even though I take my food very seriously!"
Myrtle is a fine restaurant but more than that, it captures the tone of what cooking, eating and sharing good food should be all about. In essence a reflection of Irish spirit in the heart of London.